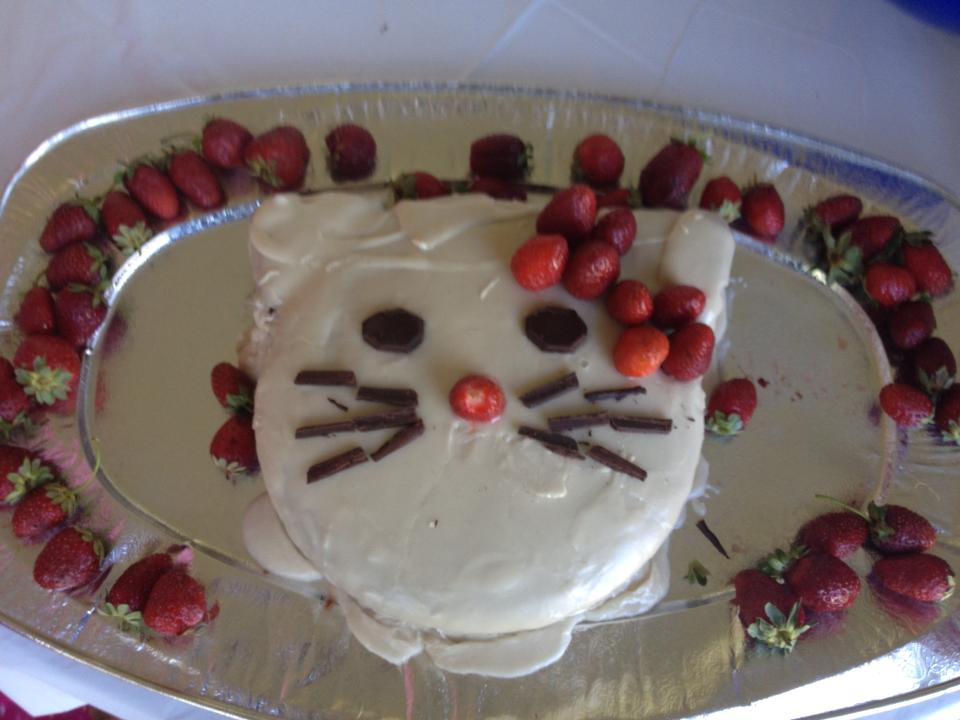 The Princess Kitty Cake ?>
The Princess Kitty Cake
My youngest requested a Princess Kitty themed birthday party with a chocolate cake. To meet the needs of my daughters and their friends the cake had to be free of:
Corn
Wheat/Gluten
Dairy
Eggs
Palm/Coconut
Soy (for some friends)
To start off I found a recipe that was close to what I needed. Then I modified the ingredients to meet our needs. (For anyone corn free please proceed with caution on specific ingredients. The test subject is 8y old, highly sensitive but not highly reactive, and very good at faking well if she thinks treats are involved.)
Our version of the recipe used the following ingredients. I've included the reasoning behind each with them in case you want to modify other recipes.
2 cups Teff Co Teff Flour (Main flour)
1 cup Mochiko Sweet Rice Flour (Adds stick and softens Teff flavor)
3 Tablespoons Ground Nutiva Chia Seeds (Bought whole and ground at home. Used to add more stick and calcium. It's my main egg replacer and I usually do 1T + 1/4c water per egg I'm replacing in a regular recipe.)
2 cups C&H Pure Cane Sugar
1/2 cup Rapunzel cocoa powder (Acid, will react with baking soda)
3/4 teaspoons Baking Soda (Basic, combined with acids = baking powder, use 1/4 t per 1 cup of flour.)
1 teaspoon Celtic Sea Salt
2 cups Cold Water
2/3 cup Aptera Extra Virgin Olive Oil
1 Tablespoon Braggs Apple Cider Vinegar (Acid, will react with baking soda)
Skipped the vanilla since we have to make it from scratch and it's flavor is covered by the chocolate.
I combined the dry and wet ingredients separately and then blended them together following the original recipe.
To make the Hello Kitty style cake I divided it between 2 round 8in cake pans and 2 round individual soufflé dishes. Each of these I lined the bottom with safe parchment paper greased with the olive oil on both sides. (Gluten free baking LOVES to stick to pans.)
Bake for 20 minutes in a 350 degree oven. (The small soufflé dishes probably need only 15 but I forgot to check them!)
After the cakes have cooled cut the two smaller circles in half. Then cut the edges off each half circle to create triangles. Put the first large circle down on the serving tray with two triangles for ears. For a filling coat with a thick layer of safe jam. (I haven't tried it yet but this recipe for a raw chia seed honey jam looks very interesting!) After spreading the jam add the second layer of cake and ears.
For the icing, I experimented with making a "butter" cream using homemade rendered lard as the base. Sadly the homemade stuff isn't neutral enough in flavor and you end up with bacon icing. (As a friend suggested if you are ever making a farm themed pig cake…. )
Instead I switched to my default white glaze icing. I use the 365 Organic powdered sugar (made with tapioca starch). I add just enough water to make a thick paste. Then I microwave long enough (stirring often) for it to turn into a liquid glaze. At this point you have to work very quickly because it sets very fast as it cools. Poor it into the center of the cake so it rolls out into a pure sheet of icing. For this cake I had to also pour some on the ears and down the edges. At some point the icing will start to set fast and touching it will spoil the finish. (But I've never had a kid complain that the icing was a little bumpy
)
For the finishing touches add whiskers and eyes made out of chocolate and a nose and bow made out of your favorite safe red berries. (We used Theo dark chocolate.) If I had had more time I would have made microwave tempered melted chocolate and used a zip lock bag with the tip cut off to pipe actual whiskers and eyes. When short on time chopping chocolate like in the picture works in a pinch.